The Presentation From the Annual Meeting of the CTSRC is posted under Current News.

Congratulations to all the Winners of the 2023 CTSRC Awards!
Outstanding Practitioner Award - John and Louise Julius Award
Sajjad Raza
Outstanding Vendor Award - Robert O'Neil Award
Noel Diaz who works for Rotech
President's Award
Helen Young
Student Awards for Academic and Clinical Excellence 2023
Norwalk Community College - Jessica Smith
Manchester Community College - Evelin Diaz
Naugatuck Valley Community College - John Sousa
Hartford University - Elizabeth Poulin
Goodwin - Luissy Rios
Southern Connecticut State University - Rose B. Jean
New student – Katrina Ugale, Norwalk Community College
Continuing student – Jason Moavero, Norwalk Community College
Advanced degree student – Michaela Rouillard, Southern Connecticut State University
Summer Forum - Registration is Open. Use Code "CT5OFF" to Get a Discount on the Registration Fee!

Join us for AARC Summer Forum and take advantage of 30 sessions spread across three days for RT leaders and educators! Registration is open! Use the code CT5OFF to receive a discount. Joel Brown will close the conference with his TED Talk titled "What's Next for You, RT?". #SF23 https://www.aarc.org/go/sf2023/
Take Advantage of AARC Benefits!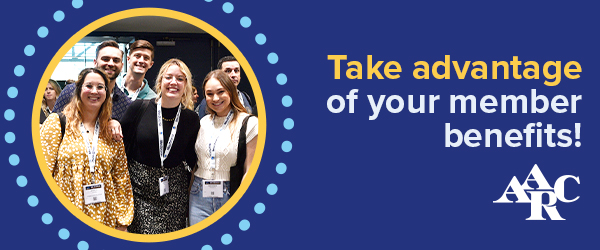 We want to make sure you are taking full advantage of your AARC membership. As an AARC member, you have access to many tools, resources, and educational opportunities to help you grow professionally such as: membership discounts, member networking, easy ways to track CRCE, free CRCE, and more.
Did you know? AARConnect, is receiving a fresh look and experience upgrade!
The AARC Membership Team has been working hard at giving AARConnect a modern look and feel. This new look and feel will be unveiled this spring. Here are a few things you can expect on the newly updated site:
Professional design, familiar to the feel of LinkedIn
Revamped Member Forum to help you easily connect with your AARC colleagues
Improved navigation
Two new widgets for quick links
New featured card layout, including a new Hero card
Improved search and filter capabilities